Fowl Play
By Orla Ahern
18 July 2014
Info
The negative impacts of climate change can seem distant and removed from our everyday lives. How do you draw people's attention to the immediacy of the threat? You design a duck. An Energy Duck!
Max Fordham's Hareth Pochee and the team at Adam Khan Architects have proposed an intoxicating fusion of art and science for the waterways of Copenhagen. Energy Duck is a city-scaled, renewable energy-generating sculpture that highlights the global environmental risks to the local habitat of the eider duck.
The 12-storey high, floating design is clad in PV panels that harvest and convert solar radiation into renewable electricity. Some of the solar energy is stored as water pressure within the duck's interior. At night, when there is no solar radiation available, the pressure can be released through hydro turbines within the duck to provide renewable energy at all times.
'It's a fun piece of work with serious intent,' Hareth says. 'It's intended as an entertaining, iconic sculpture but it's also a renewable energy generator, a habitable destination (visitors can enter the duck) and a celebration of local wildlife.'
The design has been shortlisted for the 2014 Land Art Generator Initiative (LAGI) Competition in Copenhagen. The goal of LAGI is to design and construct public art installations that have the added benefit of large scale clean energy generation. 
We think it fits the bill!
Link to the Blagi post : http://landartgenerator.org/blagi/archives/3568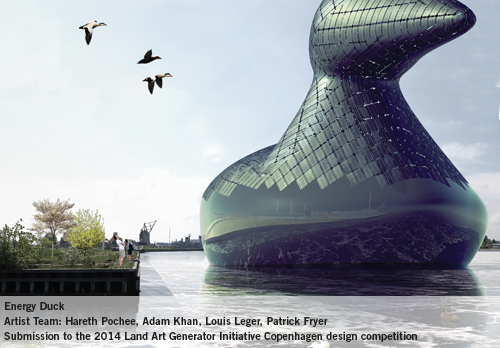 ---